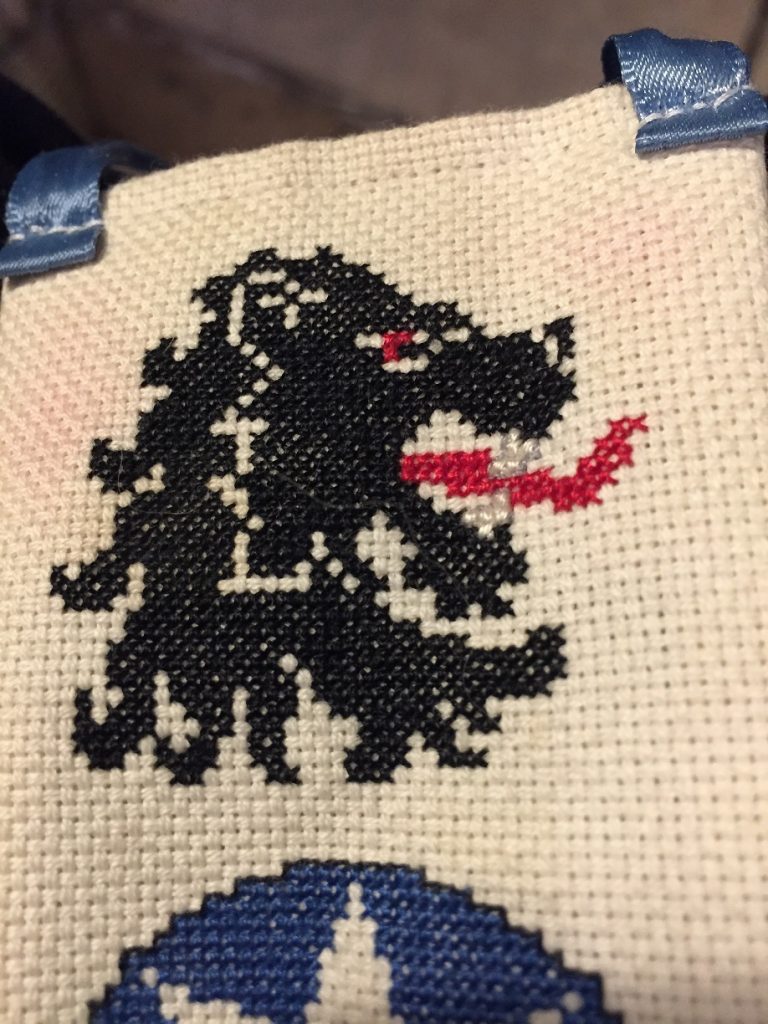 ---
Definition from Wikipedia:
Cross–stitch is a form of sewing and a popular form of counted-thread embroidery in which X-shaped stitches in a tiled, raster-like pattern are used to form a picture.
From Halima al-Rakkasa:
This is an example of cross stitch. I challenged with a sampler in pink (later entered in a modern fall fair), and it has disappeared into the mists of time. Challenge date was 2001, and level of "working knowledge".
The item is what I call my address label: if I'm lost, this label will tell you where to deliver me.
I created the patterns from line drawings, from scratch. The ground is 22/24 count aida cloth, with pearl cotton thread. In period, the materials would be more likely to include some variation of silk on linen or wool.
Lion's head – populace badge of the Kingdom of An Tir.
Voided mullet – populace badge of the Principality of Tir Righ.
Shield with swans – device of the Shire of Cragmere (no populace badge at that time; branch is now repatriated to Hartwood).
Shield with crescent – my device.
Lined with cotton; ribbon ties.
(Fabric – Embroidery – Surface – Counted Cross-stitch)